Profile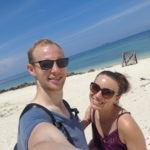 Sebastian Cosgrove
Curriculum Vitae
Education

Buttershaw High School (Bradford); University of Manchester; University of Leeds

Qualifications

Masters in Chemistry; PhD in Organic Chemistry.

Work History

After finishing my PhD I moved to the University of Manchester to do postdoctoral research.

Current Job

I do research on new ways to do chemistry, specifically using naturally occurring catalysts called enzymes.

Employer

University of Manchester, School of Chemistry
Favourite thing to do in my job: Work out why something has gone wrong

About Me: A Yorkshireman who has jumped across to Manchester

Read more

I live in Manchester with my Wife, Steph, who is also a scientist! Between us we like to go walking in the lake district and running races! This year I am running the Manchester half marathon – it will be the 5th time I've done a half and hoping to get a time under 1 hour 40 minutes (hoping being the key word there).

I grew up in Bradford, West Yorkshire, where the most popular sport was rugby league – I grew up supporting Bradford Bulls and like to try and watch as much rugby league as possible when I'm not at work. Although Bradford are not as successful as they used to be, I have hope they will once again bring back their former glories some time soon…

I also like to travel. My most recent trip was Borneo, the third biggest island on Earth and home to the Orangutan. Jungle trekking is an amazing experience, but peeling leeches off your back isn't as fun! Worth it to see some of the rarest wildlife though, an experience I would recommend to anyone!

My Work: Reinventing chemistry for the 21st century!

Read more

Chemistry is old – really old. In fact, it's so old that we still use all the same methods to do chemistry in the laboratory that we used in the 19th Century! If you think in 1850 (nearly 200 years ago) horses were our main form of transport, candles to lit our homes, and no human had ever flown! Think now, and how the world has changed: We need a revolution in chemistry, and that is what I am trying to make happen with my work!

I do things differently to normal chemists! Instead of flasks that are usually used by chemists (You have probably seen flasks like these in the movies and on telly):

I use tubes and pumps (see picture below) using a technique called flow chemistry! You probably think that sounds a bit strange, but it actually is a much better way to do chemical reactions than some of the old-fashioned ways! Using tubes (which are smaller than flasks) we have much better control of our chemical reactions, so we can make them go much faster! When you are making important chemicals, such as pharmaceutical drugs, speed is a vital part of the process as the pharmaceuticals often costs millions of pounds to make, so need to be sold as quickly as possible!

By improving the way we do chemistry in the lab, we can make even more important chemicals for all kinds of uses such as pharmaceutical drugs, in crop science and even things that have not been invented yet!

I also use something called enzymes to try and get even better control of my reactions. Enzymes are the naturally occurring catalysts that do all the chemistry that we see in nature, and can be used in much more environmentally friendly conditions than normal chemical reactions.

Using both flow chemistry and enzymes, I am trying to invent new, more efficient ways of creating the molecules that go into all sorts of different medicines.

My Typical Day: Varied

Read more

Typically I will get into the lab around 8.30. A good piece of advice I was given years ago was not to check your emails first thing, and try and do some lab work so this is what I try and do – drop my bag and get an experiment on, or check some analysis from the previous day.

This can take anything between 30 minutes or all morning depending on the nature of the tasks I have given myself.

I will then have lunch and take some time out to read the news and about the sport. It's important to have breaks so you don't burn out!

I will often have a couple of hours time to write in the afternoon, so this includes writing up results in the form of a scientific paper, or sometimes presentations to deliver at meetings with other chemists.

Usually I will work until about 6 doing a mixture of these things, but this can be changed at the last minute depending on results (or a lack of!).

What I'd do with the prize money: Help a school do experiments usually done at a University

Read more

As most schools don't have the resources to run certain experiments, I would like to use the money to buy a chemistry set to allow a local school in Manchester to run it's own 'University-style' experiments.

After putting together the chemistry set with input from a local school, I will spend an afternoon at the school discussing and demonstrating some of the experiments that can be run using the set so the teachers will feel comfortable demonstrating in the future without me being there.

If this is successful, I would like to use it as a proof of concept study to produce 'chemistry sets' for schools to be able to independently run these kinds of experiments, with them given out by either local universities or other organisations.

My Interview

How would you describe yourself in 3 words?

Determined, happy, energetic

What or who inspired you to follow your career?

Initially a teacher at school, who talked to me about all the different ways chemistry is around us in our day to day lives!

What was your favourite subject at school?

Maths

What did you want to be after you left school?

Originally I wanted to be a medical doctor, the element of helping people appealed to me

Were you ever in trouble at school?

Only once that I can remember, honest.

If you weren't doing this job, what would you choose instead?

I would do something that would let me travel the world and eat nice food all the time

Who is your favourite singer or band?

All sorts! No favourite!

What's your favourite food?

Pizza. I cannot get enough. The average person eats 40 slices a year apparently. I must eat that much a month.

What is the most fun thing you've done?

Seeing wild Orangutans in the rainforest in Borneo

If you had 3 wishes for yourself what would they be? - be honest!

Become a top chef; Change the world for the better somehow; See Liverpool win the league...

Tell us a joke.

A magic tractor is driving along a road, then it turns into a field.
---
---