Profile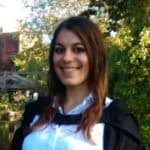 Jennifer Harris
Curriculum Vitae
Education

University of Plymouth and University of Cambridge

Qualifications

BSc; MPhil, PhD

Work History

ABPI (present); University of Plymouth; Department / Clothes stores; Subway; Italian restaurant; Bar & Pubs

Current Job

Discovery and Research Policy Executive

Employer

The Association of the British Pharmaceutical Industry – trade body and policy organisation
Favourite thing to do in my job: Help scientists discover and develop new treatments for patients

About Me: 29yrs old who loves medical science, politics and cats!

Read more

I'm half Moroccan, half Maltese, born in London and now living in Croydon, Surrey…a convient location for me to commute into Victoria and Westminster where I work. I moved here in September after finishing my PhD in Cambridge. I did my undergraduate in Plymouth where I was a 10minute walk from the sea…I miss that very much! I have no pets but really want a cat! My favourite food is Italian, especially Pizza with all the salamis, chillis and vegetables. When I was 13yrs old I used to be able to quote the Lord of the Rings movies and spoke Arabic. I love travelling and have studied many languages in my spare time, including French, Spanish, Chinese, Arabic and Japanese. My current challenge is learning German, so that I can speak to my boyfriend's parents. I just recently got back from Hong Kong and my greatest travelling achievement was sailing around the Canary Islands on a 72 foot yatch at aged 18yrs. As well as loving to travel, I also love current affairs. Whether it's the USA Presidential Elections, Brexit, the cross-border attempts to expand the Panda population, a scientific discovery or a natual disaster – I love reading and learning about what goes on around the world.

My Work: Medical Science Policy

Read more

This is our building in Victoria – Southside, 105 Victoria Street

It's right next to Westminster Cathedral – very pretty to look at!

This is the reception area, where my lovely colleagues welcome all the people who we have meetings with from Government and pharmaceutical companies.

This is our Chief Executive – Mike Thompson. Mike joined the ABPI from GlaxoSmithKline where he was most recently senior vice president for global commercial strategy and platforms. A graduate of The Queen's College, Oxford, Mike has worked across multiple sectors including food, drinks, toiletries and Government agencies.

This is a photo of me having pledged in 2018 to help colleagues fight anti-microbial resistance through becoming an Antibiotic Guardian. Anti-microbial resistance is one of many areas of medical science that we help our members, the pharmaceutical companies, and Government develop new ways of working. We want to stop the growing problem of anti-microbial resistance and develop new treatments.

My Typical Day: Meetings with scientists and Government to talk about how we can improve patient access to new medicines > Lunch and walk around St. James Park > Project work on drug discovery

Read more

I work in the Research, Medical and Innovation team at the ABPI. We are a group of 10 people who work to understand the new research being done by members and look out for new opportunities for innovation. My typical day involves three main areas:

1. Data Analysis and Policy: Whether it's anti-microbial resistance, innovative clinical trials, innovative therapies or education and skills, we as a team work on many scientific areas and stages in the development of new treatments. We often do data analysis which is used in publications that are then shared in the industry and with Government and the NHS. Through this work we hope to help scientists to develop new treatments.

2. Preparing for Government Meetings: Across the ABPI, we work with Government in one of two ways. Either we prepare a report for MPs to read, which informs them about an issue, for example supply of medicines during Brexit, or we meet and work with them directly to develop new ways the NHS can help patients, for example how to treat new patients with new treatments.

3. Meeting with Members: The ABPI is a membership organisation. Pharmaceutical companies pay the ABPI to be a member. We represent over 65 companies. Some of them are small companies with a particular expertise and some of them are big companies that work around the world on many disease areas. To make sure we can represent them properly when we meet Government and we understand the cool science they're doing, we meet with them regularly. We have many membership groups we meet with, with expertise in non-clinical research, clinical research, cancer research and skills/education.

What I'd do with the prize money: "A Day in the Life of a Scientist" - Life Science Career Showcase

Read more

People that work in "Life Sciences" or "Medical Sciences" have a range of jobs they can do. The "Life Sciences" or "Medical Sciences" refers to areas in human biology, anything to do with human health or disease…basically how the body works when it's well and when it's unwell. I would like to develop a video with examples of what these scientists do with their scientific training. For example, they can work a hospital, they can work at the Houses of Parliament, they can work in a pharmaceutical company, they can work in schools or they can work in a university laboratory. Some have undergraduate degrees and some do not. Some have Masters degrees and some have Doctoral degrees (PhDs). I would like to showcase the range of careers you can have with an interest in how the body works. I would like to do this by asking scientists to film bits of their day-to-day lives. At the end I'd have a video that you can show in schools that show you what we do as scientists.

My Interview

How would you describe yourself in 3 words?

Bubbly, Friendly, Motivated

What or who inspired you to follow your career?

Actors and Actresses from ER TV series

What was your favourite subject at school?

Human Biology

What did you want to be after you left school?

Medical Doctor

Were you ever in trouble at school?

For asking too many questions in class

If you weren't doing this job, what would you choose instead?

Travel writer

Who is your favourite singer or band?

At the moment, Joshua Hyslop

What's your favourite food?

Italian - always!

What is the most fun thing you've done?

Sailed around the Canary Islands on a 72-foot yacht

If you had 3 wishes for yourself what would they be? - be honest!

To marry my boyfriend, to always feel challenged by the work I do, to be able to visit as many countries as I can

Tell us a joke.

I was reading a book on helium - i couldn't put it down!
---
---