Profile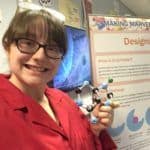 Fiona Scott
Curriculum Vitae
Education

University of Sussex (PhD, 2017-present); University of Strathclyde (MChem, 2011-2016); Perth High School (2005-2011); Aberdeen City Music School (2006-2007)

Qualifications

First Class (Hons) MChem Chemistry with Drug Discovery; Advanced Higher Chemistry, Mathematics and Music (AAA); Higher English, Classical Studies, Biology and Physics (AAAA); Grade 8 Violin and Piano

Work History

Chemistry Tutor (Brighton); Research intern, Corden Pharma (Switzerland); Chemistry Intern, Glasgow Science Centre

Current Job

PhD Researcher and Doctoral Tutor, University of Sussex

Employer

PhD Researcher

Thesis title: Development of PRK2 chemical tools to probe cancer

Doctoral Tutor duties: teaching in undergraduate chemistry laboratory classes and tutorials, invigilating and marking exams, delivering science outreach/public engagement activities to the public.
Favourite thing to do in my job: Make molecules that have never existed before

About Me: Chemist and Theatre Fan

Read more

I live in Perth, Scotland but spent the last three years in Brighton, England, working in a chemistry lab working towards my PhD. I am now in the last stages of that PhD writing everything up into a big book called a thesis! Outside of the lab and thesis writing I enjoy runnning/hiking, songwriting and going to the theatre!

My Work: Helping to make better medicines

Read more

I work in a drug discovery research group who try to help develop better medicines for diseases like cancer, anxiety, cystic fibrosis, depression, Alzheimer's etc.

I spend time in the lab making new molecules called "chemical tools". They aren't drugs exactly but they look a lot like medicine molecules usually do. They are made in the early stages of a new medicine programme to help biologists work out if shutting down a particular process in our bodies using a drug is useful for treating a disease.

Our bodies are full of about 40,000 different enzymes/proteins which carry out various jobs in our bodies. Sometimes these proteins go rogue and cause a disease and need shut down by drug molecules. Drug molecules work by fitting into the enzyme, like a hand in a glove, and stop them from being able to do their usual job. I am designing and making chemical tool molecules for a type of enzyme called a kinase, one that often goes a bit rogue in cancer cells.

These days we are trying to develop cancer drugs that only harm cancer cells and not healthy ones, like traditional chemotherapy and radiotherapy, do. That way we can hopefully have drugs with fewer side effects such as nausea and hair loss.

Read more

7 am get up and maybe go for a run

8.15 am get the bus to work

8.45-9 am arrive at work

Morning: work on chemistry reactions in lab or do office work at my desk

Lunch: enjoy some homemade soup and a little break

Afternoon: work on chemistry reactions in lab or do office work at my desk

6-6.30 pm go home

What I'd do with the prize money: Tell more people about chemistry and drug discovery

Read more

I currently run different talks about my work in drug discovery in schools and at science fairs where people get a chance to design their own drug molecule and learn about how medicines work. At the moment I use a paper-based molecule building set and it would be nice to upgrade to high quality molecular modelling sets so people get a real 3D idea of what drug molecules look like. I would also use the money to go on training courses to improve my craft in presenting live events as well as the quality of material I produce for my blog and instagram account.

My Interview

How would you describe yourself in 3 words?

Chatty, imaginative, enthusiastic

What or who inspired you to follow your career?

My chemistry teacher and friends who've been through cancer

What was your favourite subject at school?

Chemistry

What did you want to be after you left school?

A scientist

Were you ever in trouble at school?

Once or twice

If you weren't doing this job, what would you choose instead?

Musician

Who is your favourite singer or band?

I love people who are in musicals like Carrie Hope Fletcher

What's your favourite food?

Korean BBQ

What is the most fun thing you've done?

Played in an orchestra at the Royal Albert Hall

If you had 3 wishes for yourself what would they be? - be honest!

Get better at getting up in the morning; run a marathon; finish my PhD!

Tell us a joke.

I'm not great at coming up with chemistry jokes. All the good ones Argon.
---
---